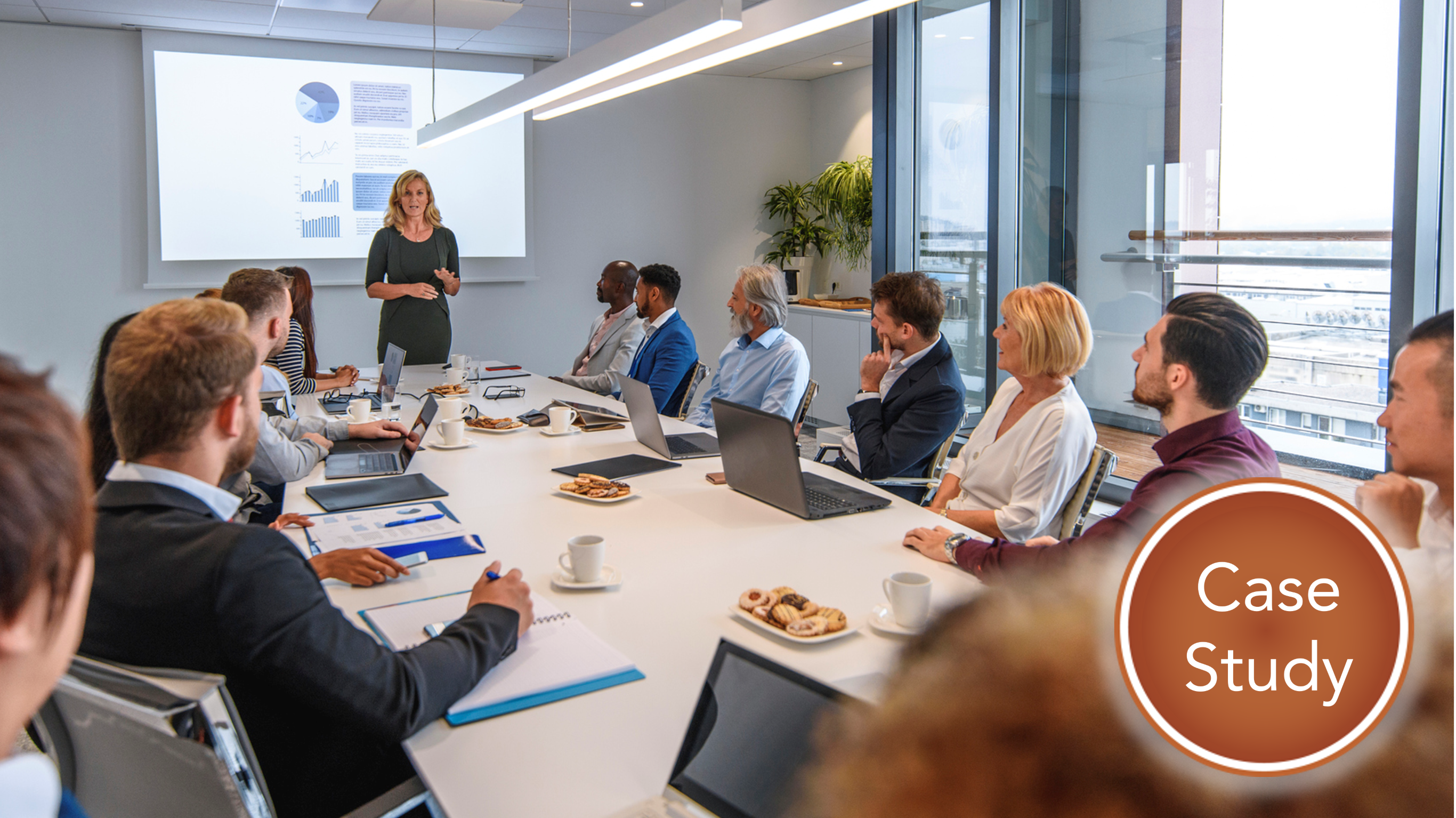 When people participate in Turpin workshops, individual members and teams enjoy a host of secondary benefits beyond greater comfort with their own communication skills. Managers and leaders are often pleasantly surprised by how team meetings become more efficient, leadership skills start to emerge, relationships blossom, and so on. We often hear that teams "Turpinize" their communication after attending a Turpin workshop.
In this series of Case Studies, we demonstrate how select clients have benefited from our work.
---
Standing Out Among a Sea of Competitors through Exceptional Client-Facing Presentations: A Case Study
Training Goal
To build the team members' executive presence and professionalize their communication with Fortune 1000 B2B clients so they stand out among the crowd of competitors
Organization
Boutique Management Consulting Firm
Trainees
Teams of Consultants
Types of Presentations
High-stakes research findings and final recommendation presentations delivered by teams to client leadership
Business Challenge
The consultancy's project teams, which are made up of seasoned professionals and recent MBA graduates, had inconsistent communication skills. The founder realized that the research-finding presentations her teams deliver are the product that her company sells. While the research that goes into the reports takes up far more time and energy than the presentations, it's the well-communicated and mission-critical recommendations embedded in the presentations that the clients value.
She also recognized that the consultants' ability to communicate clearly and persuasively could be a market differentiator in their highly competitive industry. With these realizations, she knew the team's communication skills needed to improve in major ways. They needed to work together like a well-oiled machine, and they needed to come across as equals, each with a distinct and recognizable area of expertise.
Under the then-struggling economy, the stakes were too high for anything less than stellar client-facing presentations.
Solution
We worked with the client to standardize the team's approach to the high-stakes situations they face. We helped them streamline their once-frustrating preparation process using a single, repeatable process for
Analyzing the audience
Identifying content to be included
Preparing PowerPoint decks
Assigning roles
With a standardized process in place, we then worked with the team members to play to their strengths and develop the skills they needed to succeed. For some, this meant growing their awareness of their executive presence. For others, it meant finding the best way to wrangle their nerves, get themselves untangled, be concise, and grow their confidence. As the company has grown, we return regularly to help new consultants meet their potential and the founder's expectations.
From a Consultant
Great tips on how to present, maintain composure, and look comfortable in front of a group. But if there are two things I'll take away from the experience and definitely use: How to frame the presentation – Current Situation, Goal, Agenda, Benefits; How to frame a slide – What's here? So what? Great stuff!