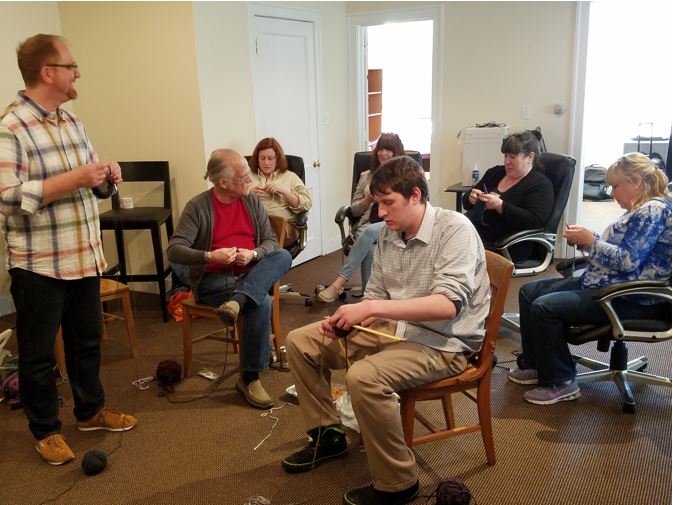 ---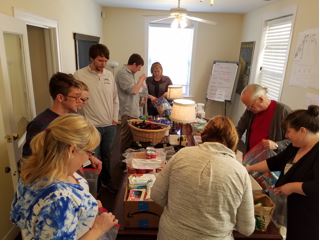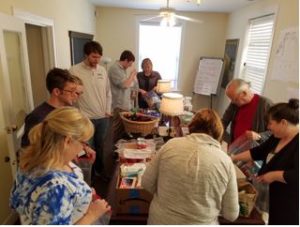 Turpin Cares is a project sponsored by Turpin Communication to help the homeless in Chicago.
Each quarter our employees and "friendlies" get together to assemble Care Packages for distributing to those who are less fortunate than us.
Last weekend, we assembled twenty-five care packages. Each one contains non-perishable food, health and hygiene products, and hand-knit hats and scarves. We envision a future when we'll be able to make many more packages, so to that end, we held a knitting class all day Saturday! In one of the pictures below, you can see several of our staff members (and others) learning some new mad skills! In all, we learned to knit, purl, cast on, and fix mistakes. The hands-down favorite new skill, though, was turning mistakes into design features!
The next time we get together will be May 6. The packages we make at that time will include summertime necessities such as insect repellent and sunscreen. All of these new knitters will keep on knitting, though. We'll use what they make next fall and winter.
Want to get involved? We'd love to have you. You may donate items for the care packages, hand-knit hats, and scarves, or your time. Cash donations are also accepted. Email info@turpincommunication.com, and we'll send more information.
Enjoy these photos of our amazing volunteers!
And most of all, a huge thank you to everyone who helped out. Maybe you sent items, knit or crocheted, donated cash, fed us while we worked, or helped entertain us. Whatever you donated, Dale and Greg (Turpin's owners) would like to extend a heartfelt thank you.