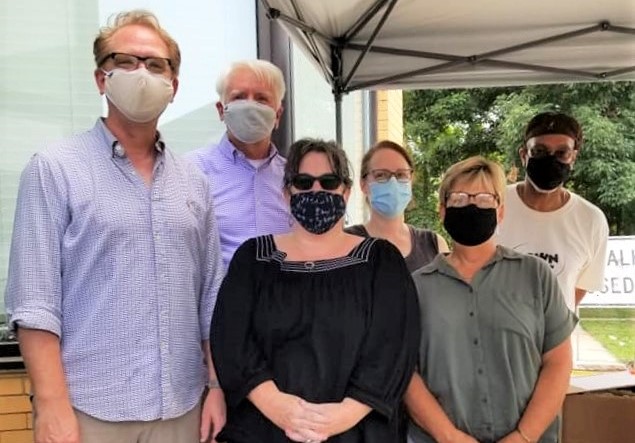 Back in December 2015, a few of us at Turpin Communication, along with a few friends, assembled 10 care packages for homeless people in Chicago. Each package included a few ready-to-eat food items and a hand-knit hat and scarf. We handed them out to people on the streets who looked like they could use one.
The realities of homelessness began to settle in through the distribution of the care packages, and we realized that lots of people do philanthropic activities for the homeless over the holidays. So we decided to do it year-round. That's the origin story of Turpin Cares.
Over the years, our programs have evolved, our numbers of volunteers and donors have grown, and the organization – now a legitimate non-profit – touches the lives of thousands of individuals in and around our neighborhood every year.
Some of our other projects include
Community Pantry Box. Nestled in a community garden, this cabinet sits tucked away for privacy. People leave what they can; others take what they need. Turpin Cares supplements it several times each week with non-perishables.
Starter Kits. The expense involved with moving into new housing after being on the street is huge. We provide starter kits to help people get situated. We offer kitchen, bathroom, and bedroom kits.
Care Packages. We still distribute the care packages that started it all, only now we do it on a regular basis.
When the pandemic hit in the spring of 2020, we started to hear stories of low-income neighbors struggling to make ends meet. Evictions were a real threat. One of our goals at Turpin Cares is to keep people in their homes so they don't experience homelessness in the first place.
The Toiletry Free Store Takes Off
Partnering with a few other local organizations, we opened what we call the Toiletry Free Store. The idea behind the store is that a simple bottle of shampoo or a tube of Neosporin should not feel like a luxury. Our thinking was that if we could provide toiletries and first-aid (and later household cleaning supplies) free of charge, the money saved by our customers could contribute to the car payment or rent.
To date, the Toiletry Free Store has given away over 50,000 items.
During the month of December in 2020, a local donor provided the Free Store with hundreds of stuffed animals perfect for Christmas gifts. That sparked an idea. Why not do something special every once in a while? In August, our back-to-school supplies distribution was a huge success. For Christmas 2021, we asked locals to donate their gently used Christmas decorations. From pre-lit trees to ornaments to Christmas dishware to 100s of brand-new vintage-style teddy bears, we distributed over 5,000 Christmas items in December alone!
We are proud of the work that we and our neighbors do through Turpin Cares. You can learn more at the website www.turpincares.org