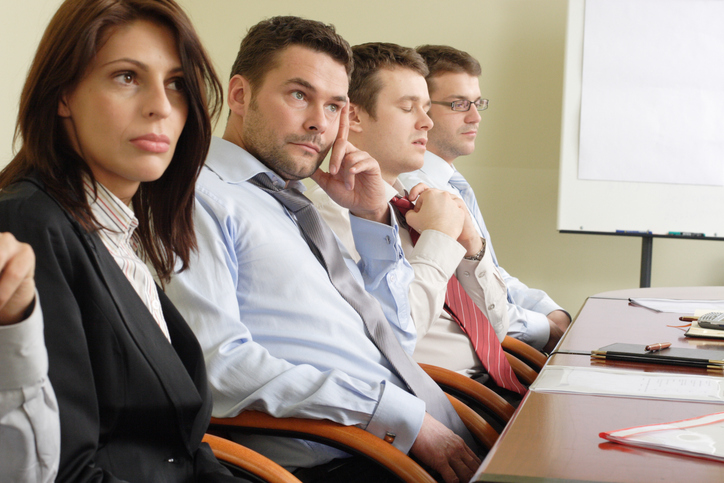 I listened to a really interesting NPR story last week about workday meetings. It said that "the average American office worker spends more than nine hours of every week preparing for, or attending, project update meetings." That's a lot of time. And the problem, as the story pointed out, is that most of these meetings last too long, they don't accomplish much, and are run poorly. Much of the blame was placed on a lack of awareness among meeting facilitators.
So, if you run meetings, what are you to do? What should you be more aware of?
First, assume that the people you're meeting with would rather be somewhere else … and that's OK.
Don't take it personally. People are busy, and meetings burn through a lot of time and energy. By making this assumption, you're reminding yourself that it's your job to keep things efficient and relevant for everyone. This might change the length of time you schedule the meeting for or the people you choose to invite.
Second, talk about the meeting process … not just the topic.
Talking about what's going to happen and what is happening during the meeting will make it easier for everyone to engage and participate. Plus, you'll sound like you know what you're doing.
Review your agenda when the meeting begins.
State the goal of the meeting and—just as important—what you need from the group to reach that goal.
When the meeting is over, clarify next steps and bring things to a close. Don't rehash meeting content or bring in new information when everyone is ready to leave.
Third, stay on track or decide not to … either way, make it a choice.
It's easy to get bogged down in the minutia of meeting content, but, as the person running the meeting, keep things going in the right direction. When the group goes off on a tangent, think about whether the tangent is necessary to reach your goal. If so, let it happen. If not, rein them in. Question your gut reaction to the tangent. It may be leading you in the wrong direction.
If you are the one wandering off track, though, stop it.
Remember, it's your responsibility to communicate a sense of efficiency and relevance. When you do, you will create the conditions for a fruitful, efficient meeting.
Download our free Ground Rules for Effective Meetings, and use it with your team.