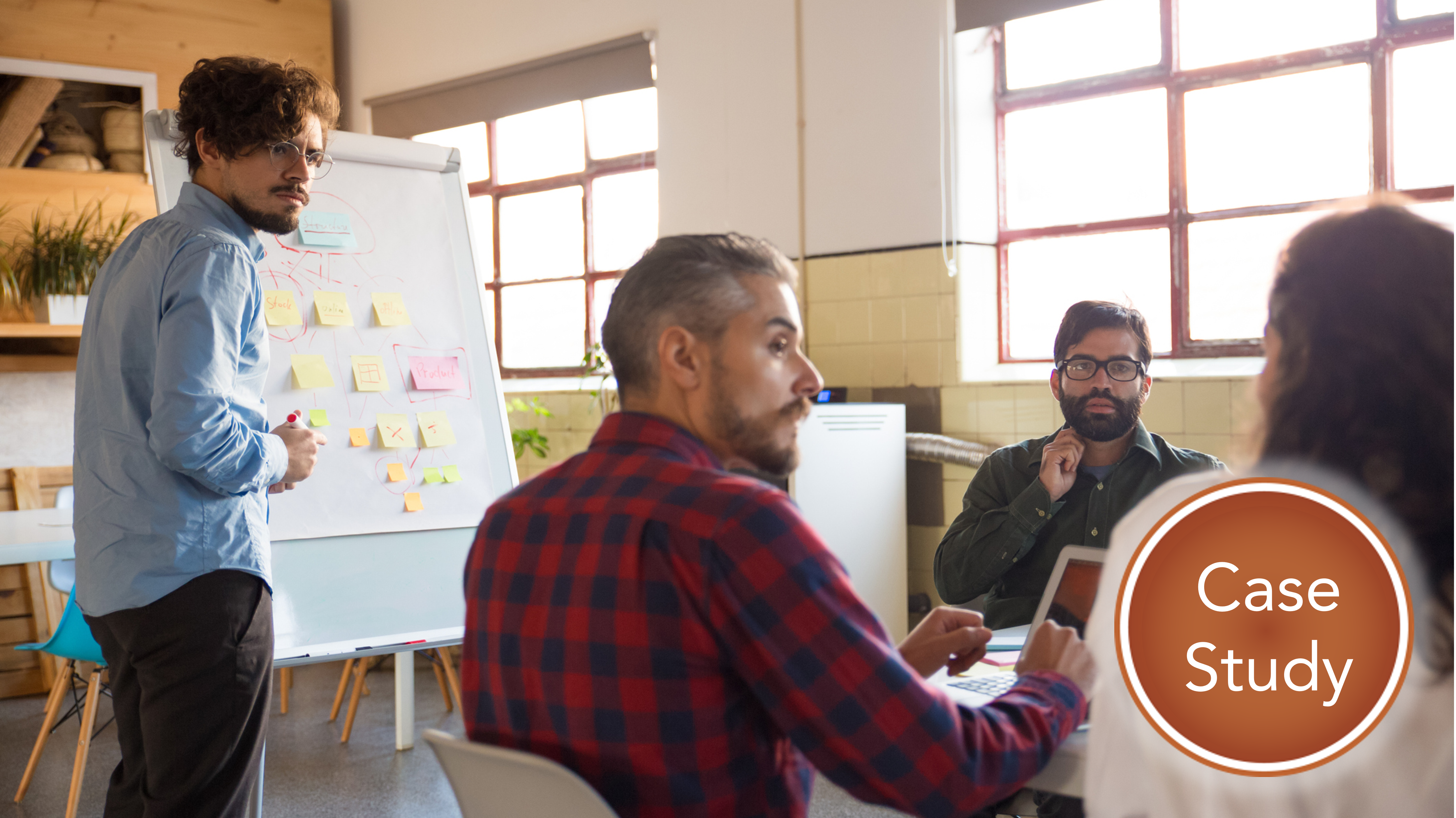 When people participate in Turpin workshops, individual members and teams enjoy a host of secondary benefits beyond greater comfort with their own communication skills. Managers and leaders are often pleasantly surprised by how team meetings become more efficient, leadership skills start to emerge, relationships blossom, and so on. We often hear that teams "Turpinize" their communication after attending a Turpin workshop. 
In this series of Case Studies, we demonstrate how select clients have benefited from our work. 
---
Improving Communication by Embedding Consistent Communication Training Throughout the Organization: A Case Study
Training Goals 
To improve university-wide, cross-functional communication by helping seasoned L&D business partners be more strategic when promoting Turpin's unique methodology and training to their internal clients 
Organization
The Organizational Development and Learning & Development groups at a Big Ten University  
Trainees  
Experienced trainers, instructional designers, learning consultants, and the new Executive Director  
Business Challenge  
A major university, like any business enterprise, is a complex organism. Diverse groups – staff, leaders, researchers, and administration – must interact and rely on each other to represent, protect, and enhance the university's brand. When the new Executive Director of L&D came from the business world into the academic environment, he quickly recognized that communication throughout the larger university community needed improvement and consistency.  
Back Story 
Since 2011, Turpin has been delivering presentation skills workshops for university staff. Several sessions a year of our 2-day Mastering Your Presentations and 1-day Speaking with Confidence & Clarity were filled to capacity through voluntary "open enrollment" classes. It was always noted that our class evaluations surpassed those of the university's other training offerings. The Executive Director wanted to better understand why our methodology and training were so effective. "What's your secret sauce?" he wondered.  
The larger goal was to boost L&D's visibility and help them WOW internal clients with Turpin's expertise in communication training.
Solution  
The "secret sauce" was the Turpin methodology, defined in The Orderly Conversation. This methodology guides our workshops for presenters, meeting facilitators, trainers, and leaders. It assumes that business communication is always a type of conversation and, as such, needs to (1) be framed for context, clarity, and relevance and (2) take place as a fruitful interaction focusing on business results.  
We first had to bring the L&D team up to speed on our methodology. To do so, we led a session with them to (1) help them improve their own facilitation skills and (2) understand how our training methods work. From there, they were able to promote our offerings in support of the Director's university-wide communication training initiative.  
Results 
The Executive Director and his team recommended Turpin training to leaders, managers, and teams throughout the university. It wasn't long before Turpin's "secret sauce" was infused into alumni event presentations by the library's speakers bureau, customer interactions by facilities management staff, training for the LGBTQ Allies program, and several leadership development programs. 
We continue to enable results-producing communication by introducing additional teams, groups, and individuals to the process, tools, and practices of The Orderly Conversation. Turpin can help any organization, large or small, in business, academia, or non-profit, improve communication skills that get business done. 
From the Buyer 
Working with you all has been a real treat, and we highly value your partnership, friendship, and the wealth of knowledge and expertise that you share with (us) – we are truly grateful!
Senior Learning Delivery & Experience Consultant