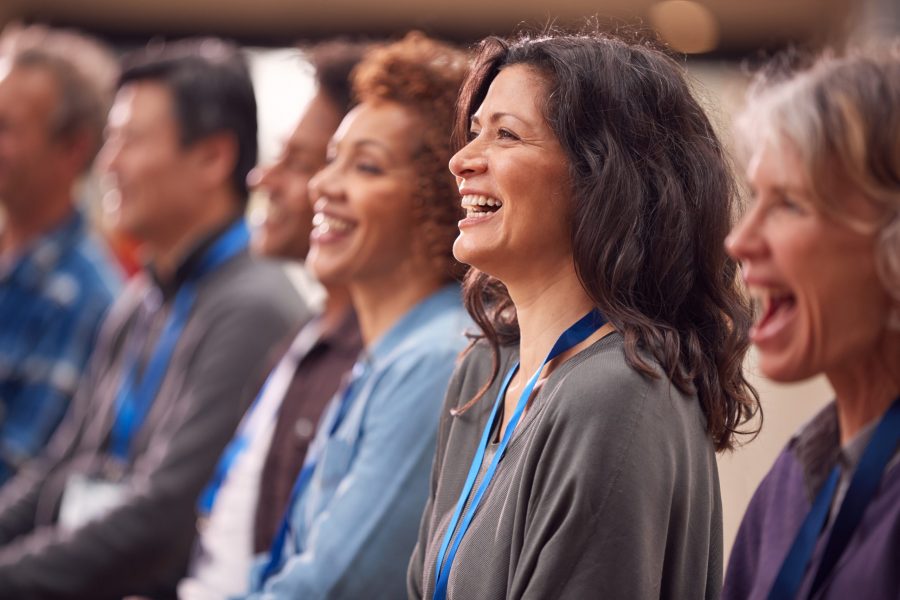 With the pandemic came several disruptions, from remote work to virtual conferences. HR conferences were also affected. While virtual conferences came with flexibility and enabled global reach, there was something about in-person conferences that could not be replicated—the human connection. In-person HR conferences provide the opportunity to network and share professional experiences. 
Thankfully, the world is recovering from the pandemic, and we can't wait to start having in-person HR conferences. So, due to our love for conferences, we've done the hard work and compiled a list of must-attend in-person HR conferences in 2023.  
We hope to see you soon at one or more of these conferences.  
March 6 – 8 – InspireHR West and EmpowerHR Tech Americas  
March 27 – 29 – Transform 2023 
April 16 – 19 – SHRM Talent Conference and Expo 
April 23 – 35 – TriState SHRM Conference 2023 
April 26 – 27 – Unleash America Conference & Expo 
June 6 – 7 – Future of Work USA 
June 11 – 14 – SHRM23 
June 12 – 14 – Total Rewards 23 
June 26 – 29 – Collision 2023 
October 11 – 13 – HR Technology Conference and Exposition 
October 15 – 18 – HR Southwest Conference 
October 30 – November 1 – SHRM Inclusion 2023 
Fall – Inspire HR 
While most of you will attend these 2023 HR Conferences to gain valuable insights and information that will help you in your roles, a small subset may be attending for an entirely different purpose; to impart
your
wisdom to the masses. Check out our blog,
What to Do When You're a Conference Speaker: 4 Best Practices
, for expert advice on delivering a great conference presentation. For companies wishing to take their conference presentations to the next level, Turpin Communication offers a
Presenting at Conferences workshop
designed for just that purpose.
Before You Go, Plan 
While you don't have to attend all the conferences, it's essential to carefully select the ones you will attend. You should base your choices on your professional needs and the expected contribution to your professional development. Review the conference websites, read about the speakers, and decide which best fits your needs.  
Plan your schedule:

Upon deciding on the HR conference you will attend, take note of the sessions you will attend. Document the time and duration. 

 

Plan your networking:

To get the best out of networking with other professionals attending, plan your networking. Whom are you going to meet? How will you approach each person? What networking materials will you need at the conference (business cards, brochures, etc.)? Be intentional with networking.  

 

Plan your learning:

HR conferences are not organized for the fun of it. Instead, there is an intended learning outcome. As a participant, plan what you want to learn. Prepare your notes and be intentional about how you will apply and reflect on what you're learning.  

 
InspireHR West and EmpowerHR Tech Americas 
For the first time, HR.com will hold these two conferences at the same time and location. First, InspireHR West kicks us off on days one and two with insights on today's top HR trends, issues, challenges, and problems. Then, from days two and three, EmpowerHR Tech Americas focuses on leveraging HR technology to solve top workforce challenges.  
These conferences will be held in tandem from March 6 – 8 in Oakland, California. For additional information, visit hr.com. 
Transform 2023 
Transform 2023 brings together a curated and diverse group of innovators and executive-level leaders from across the ecosystem. This 3-day event promises to focus on the intersection between technology and transforming the workplace and the workforce.  
Held in Las Vegas, Nevada, from March 27 – 29, this event is sure to be transformative for all those that attend. In fact, it will be the inaugural launch of the Transform Awards. You won't want to miss that! 
For additional information and to register visit transform.us/conference. 
SHRM Talent Conference and Expo
During four days of rigorous learning and excitement, participants at the SHRM Talent Conference & Expo 2023 will acquire new tools, research, and methods to succeed in today's cutthroat market. Participants will be introduced to various practical solutions adapted to any work situation, from practical recruitment and effective onboarding to data-driven approaches and engagement across the whole employee lifecycle. 
Orlando, Florida is the destination for this event, held April 16 -19. Visit conferences.shrm.org/talent-conference for additional information.  
TriState SHRM Conference 2023 
New England welcomes HR professionals in April. The TriState SHRM Conference and Expo will be held in Uncasville, Connecticut, from April 23 – 35. During the conference, you can expect to explore topics such as L&D, DEI, talent acquisition, and various strategies you can implement in your organizations. 
To learn more about this event, visit tristateshrm.com. 
UNLEASH America Conference & Expo 
Las Vegas will be the location of the UNLEASH America Conference & Expo. This two-day event is often called the International Festival of HR. For ten years, UNLEASH has served as a testing ground for start-ups, scale-ups, ground-breaking innovations, and international innovators reshaping the HR industry. HR professionals may network with visionary leaders influencing the future of work and technology at this conference. 
Plan to be unleashed on April 26 – 27. You can read additional information about this event at unleash.ai/unleashamerica. 
Future of Work USA 
Senior executives won't want to miss out on the opportunity to connect and network at the Future of Work USA conference. The organization holds similar events around the world, including in Europe, APAC, and Canada, but the focus of this event is working in the USA. Attendees can expect to learn about the workplace transformation taking place post-pandemic, workplace culture, and the role of HR in the disrupted workplace. 
Held in Chicago from June 6 – 7, expect to learn the latest trends and strategies. Learn more at futureworkseries.com/usa-2023. 
SHRM23 
The SHRM23 conference offers in-depth insights into HR with more than 200 presentations. SHRM23 will help you keep on top of what's to come in the workplace. Topics covered include the fundamentals every HR professional needs to programs for C-suite leaders. Also featured will be the newest concepts that are redefining the workplace landscape. SHRM also allows attendees to have fun while learning through its cutting-edge concert by the legendary artist Janet Jackson.  
This is the 75th anniversary of this industry-leading event. This may be the one if you can only attend one conference this year. The event takes place June 11 – 14 in, where else, Las Vegas! 
For a complete guide to this conference, visit annual.shrm.org. 
Total Rewards 23 
This event positions itself as the cutting-edge event of the year. Industry experts working around the globe will share their innovative practices. Workshops and networking events will be available to participants who visit San Diego, California. Organizers promise you'll leave the event energized and ready to elevate your workplace with the new HR practices you'll learn. 
The Total Rewards conference will be held June 12 – 14. For more information, visit worldatwork.org. 
Collision 2023 
Collision 2023 is one of the largest tech conferences in the world, with an emphasis on the global tech business. The professionals at this event represent every sector affected by technology. You will gain knowledge from inspirational keynote speakers and get tested in small-group panel discussions. This event also provides opportunities for networking at specific events. Autotech data science and environmental sustainability are just a few of the themes covered in the content tracks. 
Learn more and download the conference overview at collisionconf.com. 
This event will be held in Toronto, Canada, from June 26 – 29. 
HR Technology Conference and Exposition 
HR and IT professionals from companies of all sizes, industries, and worldwide can benefit from HR Tech's unmatched 4-day conference. The HR Technology Conference is designed for individuals looking to buy and those trying to optimize the use of current HR systems. The event's main objective is to drive HR success through technology. Attendees have the opportunity to peruse thousands of items from hundreds of exhibitors. 
Back to Las Vegas we go for this event, held October 11 – 13. Learn more at hrtechnologyconference.com. 
HR Southwest Conference
For human resource professionals and those who provide services and products to the HR business, the HR Southwest Conference powered by DallasHR is one of the largest regional education and networking events. Education tracks cover topics such as Employment Law & Labor Relations, Risk Management, and Global HR and Talent planning.  Learn about about the conference here. 
Held in Fort Worth, Texas on October 15 – 18, you might also plan to visit the Fort Worth Stockyards and world-famous Billy Bob's bar.  
SHRM Inclusion 2023 
The conference offers thorough and graded content that tackles the Diversity, Equity, and Inclusion (DE&I) problems HR professionals are most likely to encounter. SHRM Inclusion is perfect for all levels of DE&I professionals, whether Beginner (committing to DE&I), Intermediate (fostering DE&I), or Advanced (elevating DE&I). There will be ample opportunity for networking. Plan time to explore the Marketplace to meet solution providers offering the latest products and services. 
Held from October 30 – November 1 in Savannah, Georgia, this is the final HR event of the year. You can learn more about the conference here.  
Inspire HR 
Take a moment to evaluate your personal growth and the evolution of the HR function within your company at InspireHR. The conference's in-depth examination of trends, case studies, research, opportunities, and industry innovation will introduce delegates to a whole new world of HR possibilities. Leveraging peer learning, participants will learn from shared experiences in addition to learning from industry experts.  
No specific date has been set yet for this event which is expected to take place in the fall. The location is Nashville, Tennessee. More information can be found at hr.com.  
What's Next?  
First, we recommend that you take some time to gather additional information about each of these conferences. Read about the content tracks and the speakers and how each aligns with your 2023 HR development goal. 

 

Second, it's vital to act early. These conferences fill up fast, so you should register as soon as possible. 

 

Third, upon registration, familiarize yourself with recommended materials and resources. Watch past conference videos where available to get a feel of what to expect. 

 

Lastly, don't forget your conference dates. It's easy to forget or mix up a conference date with another. Set a reminder on your device. 

 
Attending one, or more, of these conferences will help elevate your HR career to the next level. The learning process never ends, especially in light of evolving society and culture. We're excited to see you in person in 2023!