About the Book
Unleash Your Business Communication Potential
Welcome to The Orderly Conversation: Business Presentations Redefined, a groundbreaking book and resource designed specifically for business presenters like you. You and your team can say goodbye to traditional presentation rules that don't quite fit the real-world dynamics of today's business settings. Instead, you can embrace this fresh, practical new approach tailored to the everyday, results-driven presentations that drive businesses forward.
A Shift in Focus: Embracing Presentations as Conversations, Not Speeches
In the business world, presentations are not one-way speeches or TED Talks; they are dynamic exchanges of structured information meant to foster progress through meaningful conversation. For example, traditional resources and presentation skills training often focus on speechmaking and assume that Q&A is to be reserved for the end. Our approach treats these interactions as a fruitful element throughout.
The Orderly Conversation distinguishes itself by challenging traditional approaches and replacing them with something better.
Our groundbreaking methodology helps you:
Revolutionize and simplify your presentation approach
Improve self-awareness and reduce self-consciousness
Connect with people, read the room, and react
Identify and leverage your unique strengths for maximum impact
Cut through noise for concise and efficient communication
Facilitate discussions that get business done
With The Orderly Conversation as your guide, presentations become responsive, flexible, and tailored to your audience and business needs.
Get The Book
Want to Bring The Orderly Conversation® to Your Organization?
Join the Journey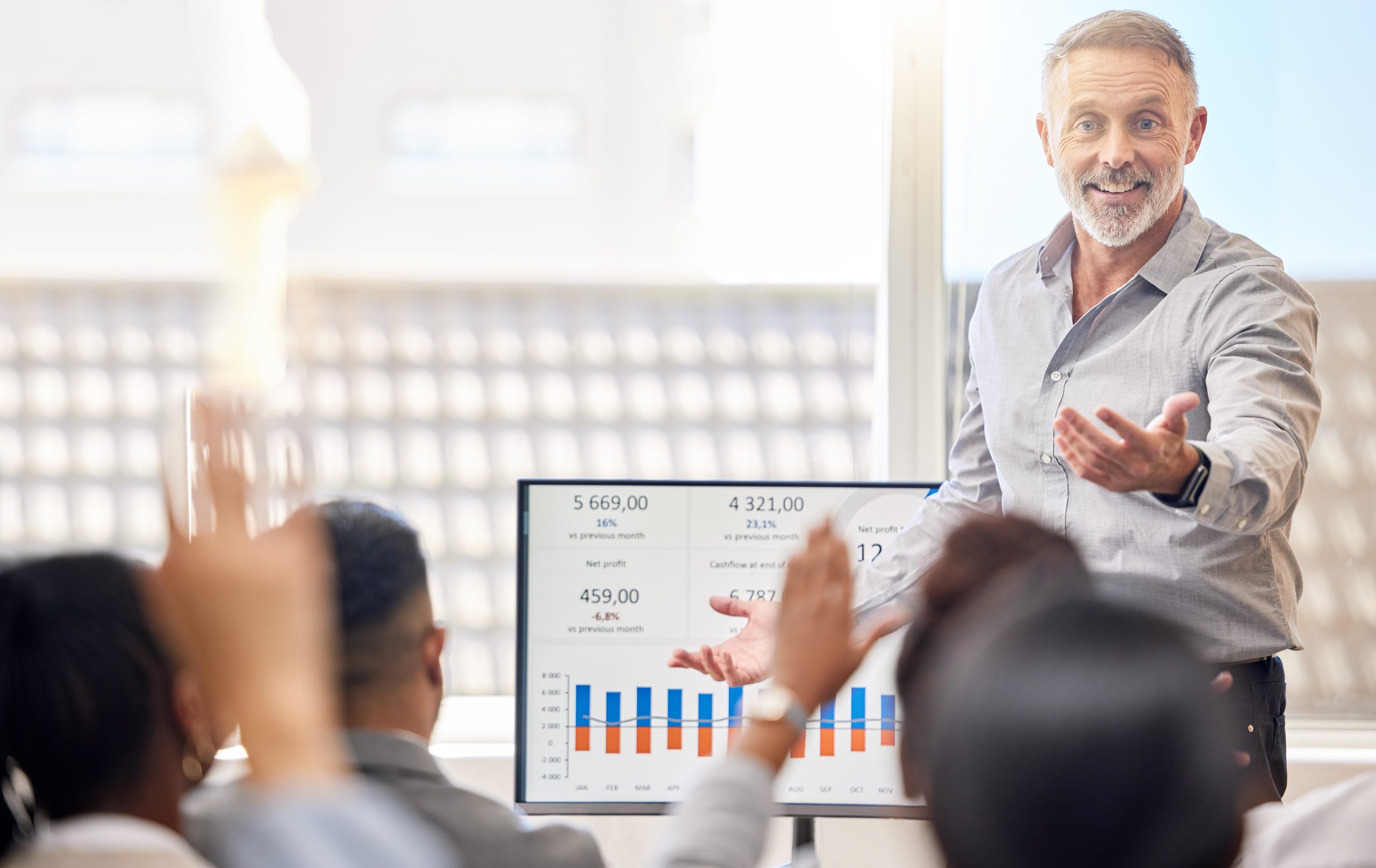 Meet Eight Business Professionals with Real-World Presentation Challenges
Embark on a captivating journey as you follow the progress of eight fictional yet relatable business professionals as they participate in a presentation skills workshop. Watch as they shift their mindset away from speechmaking and embrace The Orderly Conversation concept. Through the authors' guidance, you'll witness the success and transformation of individuals who share similar habits, assumptions, and experiences as your own.
Do These Challenges Resonate with You?

The Orderly Conversation: A Game-Changer for Business Presenters. Hear What Our Readers Have to Say.
"This book is flat-out full of awesome. Everyone who shares their ideas with others can improve their impact with the tips in this book."
"I'm excited to use what I've learned on my next presentation, and I'm buying several copies for my colleagues."
"Turpin's approach is unique and powerful. My team significantly improved after doing the workshop years ago – and yours will too."
"Forget what you've been taught about speechmaking. This book is about what really makes deals happen – the conversations between you and your boss or your customers."
The Orderly Conversation Methodology is for You and Your Team if:
Meetings and presentations routinely lead to frustration
Traditional presentation rules and techniques don't lead to their intended outcome
Nervousness persists despite best efforts and strategies
Team members struggle to meet expectations
Ineffective meetings lead to delayed decisions and stalled sales
Thinking on your feet poses a challenge in crucial moments
Traditional rules for visual aids don't seem practical
Perfecting your presentation through practice has backfired
You believe there must be a simpler, more efficient way to prepare and deliver presentations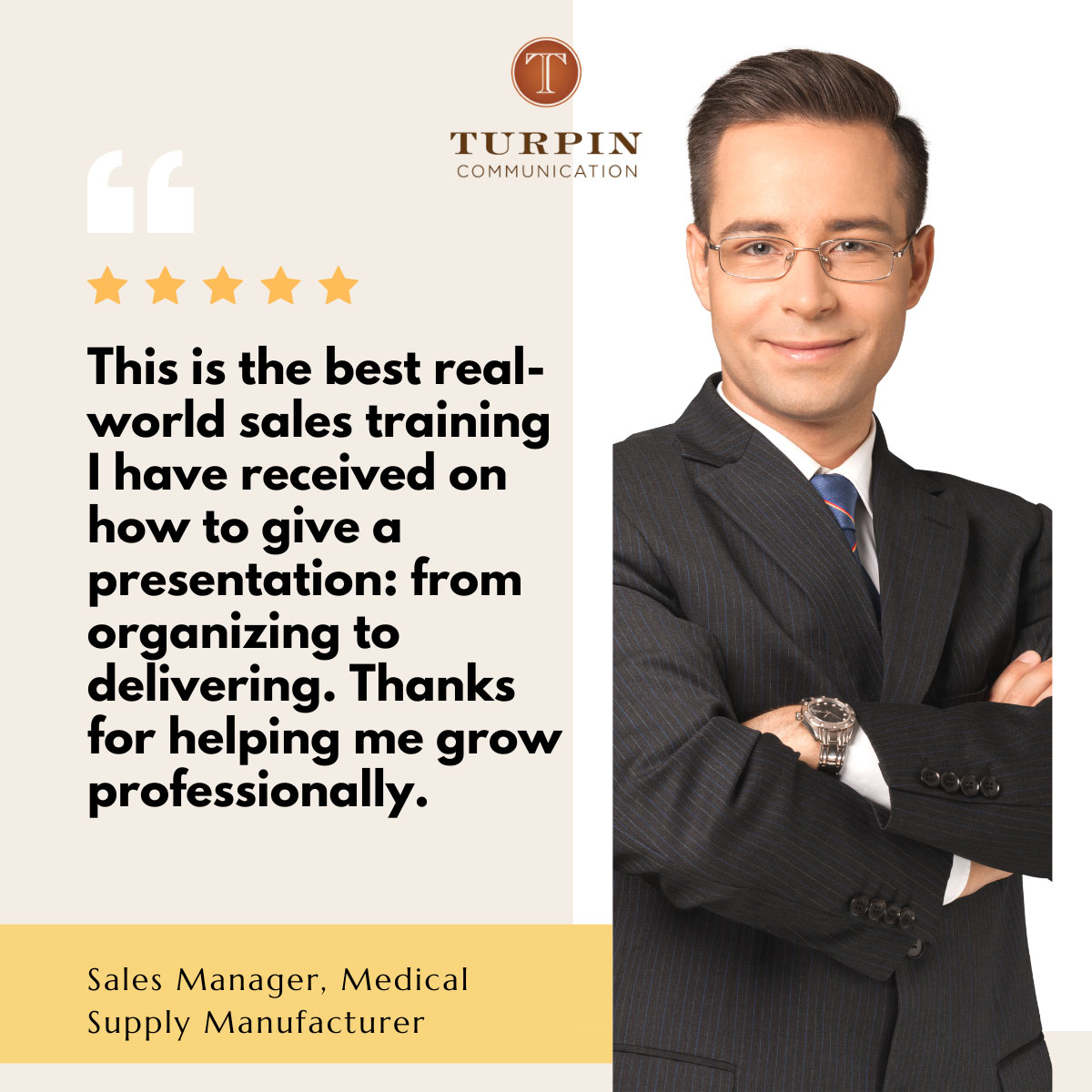 Elevate Your Presentation Skills Today.
Unleash your full potential as a business presenter and communicator with The Orderly Conversation by Turpin Communication. Embrace this transformative resource to conquer your challenges, engage your audiences, and achieve lasting impact. Watch as your business conversations become dynamic, purposeful, and successful.
Purchase the book on Amazon.com.
Your Journey to Effective and Transformative
Business Presentations Starts Now
Get The Book
Bonus Features
Access Our Free Downloadable Resources as Illustrated in the Book: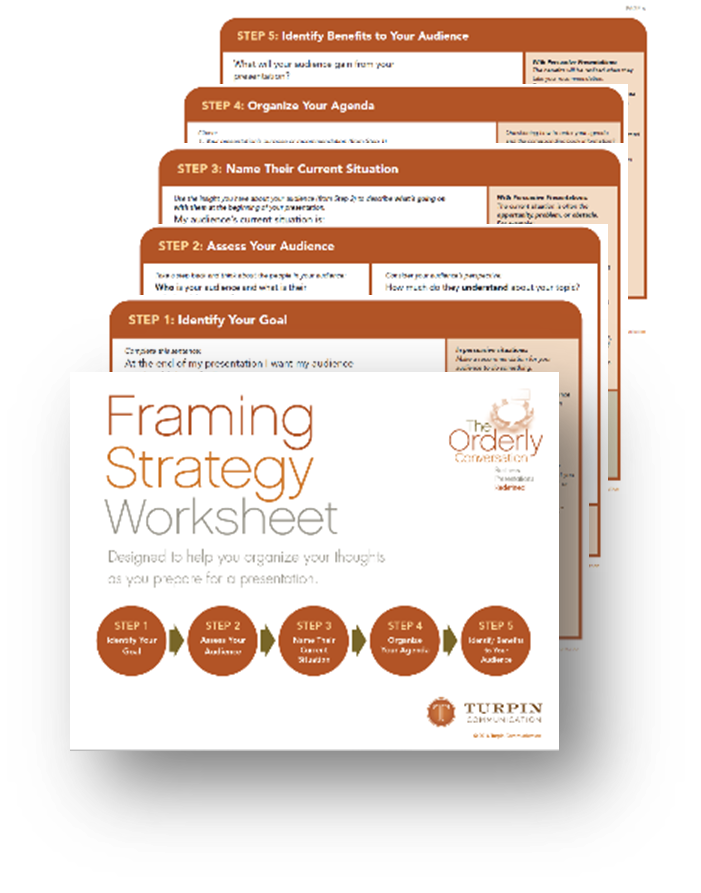 The Framing Strategy Worksheet
An Invaluable Tool to Help Organize and Structure Your Thoughts
Whether your presentation involves closing a sale, explaining a new process, or teaching a module, The Framing Strategy Worksheet is a powerful tool to achieve your communication objectives. The fundamental goal of the worksheet is to help you establish trust, motivate your audience, and answer the questions "What are we talking about?" and "Why?"
The first section of the Framing Strategy Worksheet covers five (5) crucial steps to prepare for your presentation, including
Identifying your goal
Assessing your audience
Naming their current situation
Organizing your agenda
Identifying benefits to your audience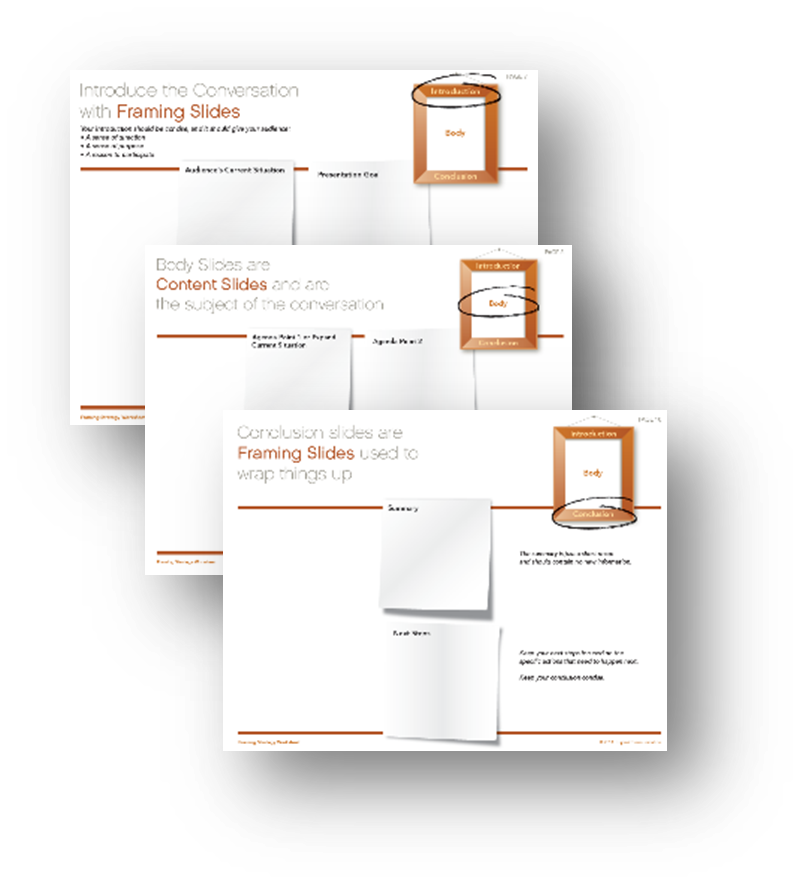 The second section of the Framing Strategy Worksheet includes a step-by-step guide to help you develop an effective visual presentation, including how to structure the
Introduction Slides
Body Slides
Conclusion Slides
We Embrace Your Uniqueness as a Business Presenter and Communicator
We recognize and embrace your uniqueness as a business presenter and communicator. We understand that cookie-cutter solutions won't suffice when it comes to your specific communication challenges. That's why The Orderly Conversation goes the extra mile by providing additional resources, such as the Default Assessment. This assessment allows you to gain deeper insights into your own communication approach and provides relatable challenges along with tailored recommendations for adjustments. By implementing these personalized strategies, you'll experience significant improvements and unlock your full potential, helping you excel in your presentations like never before.
Assessing Your Default Approach
Are you a Writer or an Improviser?
Take the assessment to find out.
Take the Assessment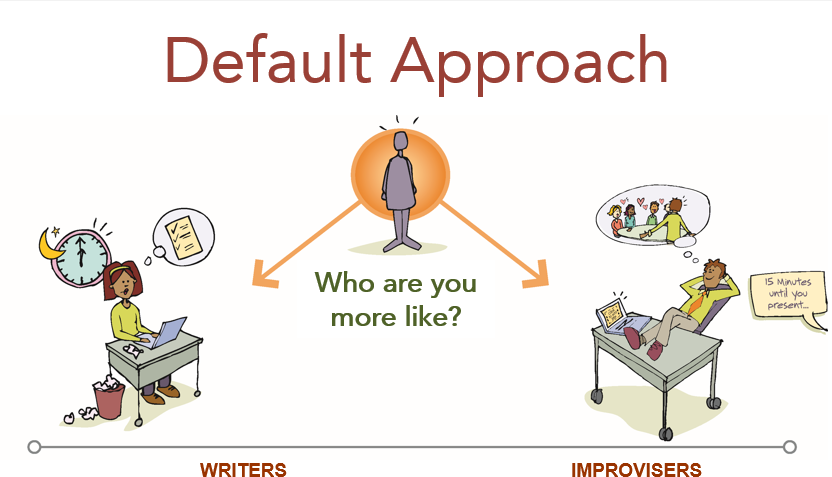 In our experience, we've discovered that people fall into two general approaches when preparing for presentations and meetings. We refer to these approaches as "Writers" and "Improvisers." Determining your Default Approach is essential to understanding your preferences and making necessary improvements.
Writers: Place great emphasis on preparation and default to an approach that prefers a controlled communication environment. These presenters are often inflexible and strict in their delivery.
Improvisers: Believe in their ability to connect and respond to their audience and like to be spontaneous, often to the point of under-preparing. These presenters can easily lose focus during delivery.
By understanding your Default Approach, you can learn to adapt by leaning into strengths and learning new skills to compensate for weaknesses.
Like The Orderly Conversation? Check Out Our Other Books.
At Turpin Communication, we've literally written the book(s) on effective business communication. We're here to empower you and your team to become better, more confident, impactful communicators who drive your business forward.
Bring the Power of The Orderly Conversation to Your Organization for Lasting Impact.
Revolutionize your team's communication skills with Turpin Communication. Our customized workshops will equip your organization with the essential tools for success. It's time to break down communication barriers, foster collaboration, and drive your business forward.
Contact us today to unlock your team's full potential.
Free Consultation